Top 5 Company Retreats for Bay Area StartUps | Offsite Co. SF
SIMPLIFIED RETREAT & OFFSITE PLANNING FOR BAY AREA STARTUPS
Planning a retreat or offsite for your team, no matter the number of people, can get overwhelming and stress-ridden.
We've been at this a long time. Planning retreats for some the biggest names in Silicon Valley as well as for the up-and-coming startups we'll be using and talking about in 12-36 months.
Our secret sauce is in designing hyper-customized experiences for our clients, from Big Sur to Lake Tahoe.
Here are the top 5 company retreats for Bay Area StartUps.
BIG SUR COMPANY RETREAT
Size of Team: Up to 75 People
Vibe: Lodge / Camping / Glamping
Team Building: Scavenger Hunt, Ropes Course, Ocean Kayak Tour, Hiking, Wilderness Survival Workshop, Bon Fire + S'mores, Local Fire Dancing Experience and More!
Workspace: On-site Meeting Rooms
Food + Drink: On-Site and Amazing Local Restaurants + Private Dinner Party
Budget: $$$+
One of our all-time favorite company retreat destinations outside of SF that has been somewhat inaccessible the last couple of years. Big Sur is Back! This region is becoming one of our most popular retreat destinations for team offsites and executive retreats. The venues we have access to in Big Sur range from tent camping to 4 star cabin lodging. The experience here is what truly sets it apart. Arrive to a coastal hike and lunch, check-into your accommodations and then get ready for a lodge-style workspace for the afternoon meetings. Our private chef in Big Sur uses all local and organic ingredients to design a custom menu around any teams dietary restrictions. Ask about the Bon Fire and Local Native American Fire Dancing experience in Big Sur!
Offsite in Marin County
Size of Team: Up to 120 People
Vibe: Boutique Hotel and Rustic Retreat Center
Team Building: Coastal Hiking, Kayak Tour, Team Olympics, Happy Hour + Lawn Games, Oyster Farm, BeeKeeping and More!
Workspace: On-site meetings rooms or take the meetings outside.
Food + Drink: On-site restaurants at lodging, local restaurant (Nicks) and The Offsite private chef experience
Budget: $+
Tomales Bay and the surrounding peninsula is one of our all-time favorite retreat destinations within 1.5 hours of San Francisco. We host over 10 retreats in this region every year. The proximity to the bay area coupled with the gorgeous natural setting; makes the Marin Coastal region perfect for almost any team. The Oyster Farm experience we provide is a memorable event that will, no doubt, have your people coming back to the region with friends on many weekends to come. We love introducing people to this beautiful region and can't recommend it enough for your next offsite or company retreat.
The Russian River
Size of Team: Up to 250 People
Vibe: Boutique Hotel, Glamping, Camping and Cabins
Team Building: Floatilla, Kayak to Brewery Tour, Private Dinner Party, Team Olympics, Scavenger Hunt, Camp Fire Karaoke, Talent Show, Costume Party, Ultimate Race, Beautiful Hiking, Yoga and Meditation, Happy Hour + Lawn Games and SO MUCH MORE!
Workspace: Various workspaces from intimate to large modern barn.
Food + Drink: Private Chef and Catering and Local Establishments
Budget: $+
The Russian River holds a special place in our hearts here at The Offsite Co. The region is, in many ways, the ultimate escape from SF or the Peninsula. Beautiful scenery, fun activities for everyone and, the best part, typically very reasonably priced. We can rave on about this region all day so we'll just say this; If you're looking for a cost-effective and rustic experience for your team…you can't looking and explore the amazing Offsite Co. venues in this area.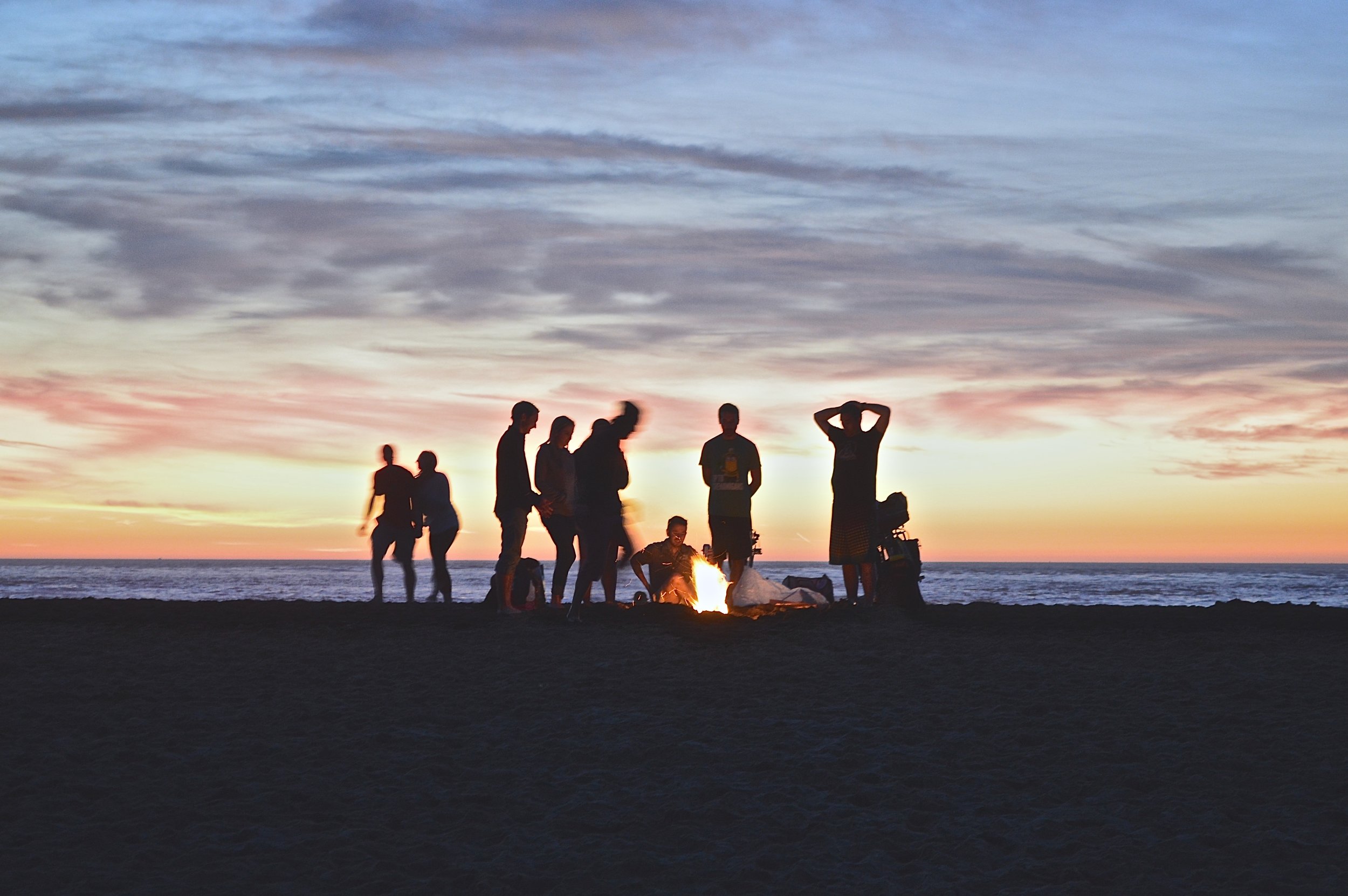 Santa Cruz Offsites
Size of Team: Up to 350 People
Vibe: Resort, Glamping, Boutique Hotel, Coastal Ranch
Team Building: Beach Team Olympics, City Bike Ride, Coastal Hike, Happy Hour + Lawn Games, Ropes Course, Sunset Sail, Bon Fire + S'mores and More!
Workspace: On-site Meeting Rooms or Brewery Buy-Out
Food + Drink: Local Private Chef and Catering Service + Local Restaurants
Budget: $$+
Santa Cruz, we love you. Santa Cruz offers something for every client. It's no wonder that we are presenting at least one experience in this region for most clients out of the Bay Area. Our lodging an venue partners range from ocean-front estates and coastal ranches to beach-front resorts and downtown boutique hotels. The accessibility from San Francisco through the South Bay is easy and convenient. Our favorite things about Santa Cruz are the amazing opportunities for both structured and unstructured team building events and experiences. From a high-ropes course to ocean kayaking, from a team olympics to a scavenger hunt; Santa Cruz provide. Bonus: Our private chef and catering service in Santa Cruz has hosted over 100 retreats with us. We design each meal as part of an experience with out clients.
Company Retreat in Wine Country
Size of Team: From 10people to 500+
Vibe: Private Ranch Buy-Out, Boutique Hotels and Resorts. (Ask about Glamping in this region!)
Team Building: Bike Winery Tour, Winery Buy-Out, Team Olympics, Scavenger Hunt, Hot Air Balloon Rides, Horseback Riding, Private Wine and Champagne Tasting, Bon Fire + S'mores and so much more!
Workspace: On-site meetings rooms, Rustic barn buy-out, Winery Buy-Out
Food + Drink: On-site restaurants at lodging, unique cafes, private chef / catering.
Budget: $$$+
California's Wine Country is world renowned for its beautiful scenery and amazing wines. Visiting this Napa or Sonoma with your team for a company retreat or offsite will, no doubt, provide lasting memories and a more connected team. We love this region for our clients that are planning their first offsite outside of the Bay Area. Many of your people will have, no doubt, heard of the great experience here but with dozens of offsites and retreats hosted here each year, we know the area better than any retreat planning agency. Here are a few of our highlights and recommendations when looking into Wine County for your next company retreat.
To The Redwoods
Size of Team: From 50 people - 400 people.
Vibe: Boutique Hotel, Glamping and Cabins
Team Building: Team Olympics, Wilderness Survival Workshop, Archery, River Floating, Bon Fire + S'mores, Live Music, Private Dinner Parties and so much more!
Workspace: On-site meetings rooms
Food + Drink: Private Chef and Catering Experiences
Budget: $+
If you asked our team to pick a favorite company retreat destination outside of SF, at least half of them would come back with Mendocino. It's less common for us to engage this region for a client but, when we do get the opportunity, it always delivers. It's rare because, for a lot of retreats, it falls outside of our travel time formula of 1.5 hours of travel maximum per night the group is staying. Our favorite venues in this region land between 3.5 and 4 hours away from your office in the bay area. The Redwood Forest and accessibility to the coast is amazing. This region offers so many different lodging options for all budgets and the experience will, in the end, bring your co-workers together through amazing outdoor activities.
Big Sur
Big Sur offers so much for a hustling at startup team to retreat to. If your goal is to really escape the senses overload of the city, we can't recommend Big Sur enough. For teams of less than 30 attendee's, this is a really great option. We also recommend atleast a 2 night stay when visiting Big Sur from the Bay Area. The drive is a bit more robust than the other retreat destinations highlighted here so take the extra night to really unwind, relax and get refreshed.
For venue option, we recommend checking out The Big Sur Lodge and Glen Oaks Cabins for your team.
For team building activities, the natural surrounding is the really the draw. Explore some hikes, take a dip in the Big Sur River or sign-up for a private native american dinner and bonfire experience through our team here at The Offsite Co.
Santa Cruz
An all-time client favorite over the past 6 years of planning and managing company retreats for SF based startups. Santa Cruz is great because it can deliver an amazing experience for a team of 10 or a team of 200+ people.
For lodging and venues, we are often looking at Airbnb and VRBO for unique places to host and house our teams. Additionally, we have a database of private ranches and lodges in the Santa Cruz that help us curate super unique and elevated special events for our clients. For a larger team, we can't recommend The Paradox Hotel and The Dream Inn enough.
For team building activities…where we do start. The Santa Cruz high ropes course is a client favorite for team building. Also looking into the following: The Beach Olympics by The Offsite Co., a local scavenger hunt, coastal hikes, team beach cruiser ride, the Santa Cruz Boardwalk, Wilderness Survival Training by The Offsite Co., Bowling Night, Karaoke Night, Private Ranch Party in Santa Cruz, Surf Lessons, Beach Day with Kayaks, Volleyball, SpikeBall and much more. Santa Cruz truly has endless opportunities to design unique bonding opportunities for your team.
For more information on planning a company retreat in Santa Cruz, check our Guide to SF Startup Retreats.
Tomales Bay:
This is a hidden gem! A sneaky out of office experience within 1.5 hrs of your SF office, Tomales Bay is a unique and cost-effective offsite option for your team. We love taking teams here because we feel like tour guides showing you the beautiful region that is exists as the perfect weekend getaway with friends or family.
For lodging we recommend a variety of cabins, a boutique hotel or the rustic camp vibe retreat center The Offsite Co. offers exclusive access to.
We can't talk about team building in this region without a Kayak Tour. It's absolutely fantastic in every way. The bay is best explored on the water. We have also hosted bay front picnics, beach olympics and so many other great team building events in this region.
Sonoma
If you're planning a retreat for your SF based team, let's just assume you've heard of Sonoma. It's gorgeous and offers such an array of experiences and lodging options that is truly great for any size team on any budget.
For lodging options, the world is your oyster. Want to do an overnight campout on Lake Sonoma? Let's Go! Perhaps you're looking for an elevated experience on a 10 acre ranch with over 20 cabins that can host up to 70 people? For any team looking to go offsite, Sonoma is typically in the top 5 of our initial venue proposal.
For team building activities in Sonoma, the options range as wildly as the lodging does. One of the best high ropes courses in California sits in Sonoma. Hot air ballon rides, winery tours (bike or bus), team olympics, scavenger hunts, gokart racing and so so much more!
Russian River
The Russian River area is one of our all-time favorite destinations for clients with up-to 150 people for a retreat. Our venue partners in this region are incredible and the experience is so unique. We love it because the accessibility from The Bay Area is so quick and easy via bus.
For venue options, check with The Offsite Co. for the all-time best company retreat venues in the Russian River.
For team building we recommend a kayak tour with a brewery stop or a Floatilla! experience. This region allows us to design hyper-unique experiences in a very cost-effective way for our clients.
500+ Custom Retreat Packages
The Offsite Co. partners with each client to design highly curated retreat experiences. Everything revolves around your teams unique goals, vision and budget. Provide some color on your retreat and we'll be in touch within the hour.